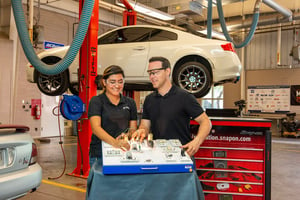 As a shop teacher, you care about your students. You want to help them find the career, and life, they deserve. Unfortunately, sometimes it might feel like you don't have the same resources to be a mentor as teachers in traditional academic fields.
What happens when you come across students who are perfect for an auto tech career? How do you help them avoid the wrong path?
Read on. We've identified the best way to get your shop students to tech school and beyond to a life of success.
Be a Mentor
Here's the bottom line: Auto tech students need strong mentors too. Students may feel pressure from all other angles to go to a traditional four-year college, but you can be the true mentor who helps students get where they want to go.
Wondering how?
Make yourself into a reliable resource for tech college advice. Start by researching tech schools and learning for yourself what it takes to get in. That way, you can help guide students who show promise but don't quite know the best route to their dream careers.
But you don't have to stop there.
Your students can benefit from the relationships you've already spent so much time developing. Talk to your former tech students and your acquaintances in the field. Ask them if they need interns or if they're willing to simply talk to your students about their experiences in the industry.
Every connection you have could be a valuable resource for a student just waiting to be tapped into.
Know What Options Are out There
Simply put, most people don't recognize all the careers technical college can lead to, even beyond that of a technician. How can you expect your students to be any different? That's why spreading a little knowledge can go a long way.
Both technology and careers are advancing rapidly. Now more than ever, there are specialized auto tech careers that graduates can jump into, either early-on, or further down the road.
For starters, here are some common roles in the industry that are often overlooked:
Parts manufacturers or specialists
Service experts
Sales professionals
Product development specialists
Shop owners
And auto tech careers are primed to morph even more in the future. That means it is smart to stay updated on the future of auto tech careers, so you can prepare your students for success in this changing landscape.
Point Students in the Right Direction
Here's what nobody wants to happen: You have a student who's perfect for an auto tech career. She enjoys working with her hands, learns by doing, and is fascinated by the way complex systems work. Unfortunately, other adults pressure her into going to a traditional four-year school.
You've probably already seen what happens next.
She's not interested in her classes or the careers in her new path. So she drops out, spends years retaking college classes, or limps through an unfulfilling career. And she's left with massive student loan debt weighing her down.
Luckily, you're in a position to keep this sad scenario from starting in the first place. You can promote better outcomes by simply identifying students who are a great fit for tech school and feeding them the right resources. Encourage them to participate in internships to get a taste of careers before jumping in.
Not sure where to start? Here are a few internship sites to pass on to your shop students:
All the while, you can help students avoid disaster by making an honest case for technical careers.
Give them a realistic view of costs, compensation, and student debt. All too often, students overlook the price tags that come with traditional four-year colleges.
You know better. You see the financial freedom that comes when students start earning in their careers two years earlier, without debt looming.
Your students probably don't.
By laying out the benefits of tech college, you can have a more honest conversation with students who face life-changing decisions.
Get Them Across the Finish Line
Let's face it: You can talk about the advantages of tech college until you're blue in the face, but if students don't have the resources to get there, they'll be stuck in neutral.
By helping them find the resources they need to succeed, you can change their lives for the better. Take advantage of resources built for educators that you can pass on. Show them exactly where and how to apply for scholarships. Help them do their research, and show them where to find tech schools.
All along the way, you'll boost their confidence by helping them understand what to expect at tech college and in auto tech careers.
Want to stay up to date on the latest in the industry and get tips on the best route to tech careers? We've got you covered. Subscribe to our blog here.