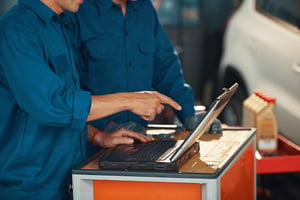 Today's auto techs are as much IT specialists as hands-on repair people. This should not come as a surprise, considering the average car rolling off the assembly line runs on as many as 100 million lines of code, and the Ford F-150 pickup boasts a whopping 150 million!
The days when driver-assist features such as cruise control seemed high-tech are long gone, as new features and functionality appear every year. Here's a peek at where the industry is headed.
Electric Vehicles
The electric car has been with us since the turn of the nineteenth century, but has only recently become a powerful force within the industry. Steady improvements in efficiency and battery life have increased travel distances and begun to make it a reasonable alternative to gas or diesel vehicles.
Although its market share is currently only 2 percent of total vehicle sales, it is expected to overtake traditional vehicles by 2038, pushing past one billion units worldwide by 2047. Why the sudden shift? Electric cars are getting progressively cheaper, primarily due to enhancements to battery technology.
There are still obstacles for champions of the sector to overcome. Charging stations remain few and far between, though some are working to change that. Another issue is battery warranties, which are usually shorter than the warranties for parts on the rest of the vehicle.
Auto repair shops have taken note of this trend and begun training their teams to be able to service electric cars. A combination of old-school know-how, laptops, iPads, and Google Hangouts is reinventing the role of the automotive technician in the digital age.
Internet of Things (IoT)
The reach of the internet goes well beyond your laptop or phone. In today's wired world, nearly anything with an on/off switch can be configured to access the internet. It can also collect and store data and transmit it to other connected devices across the globe, be it your TV, fridge, front door, or car.
Not only can a driver lock or unlock a car with a tap on a smartphone, she can also start it up, check the gas, and make sure it's safe—all from the comfort of her home or workplace. And the number of cars with this functionality is rapidly increasing—up to 381 million cars will be connected by next year, and 82 percent of new cars (or 94 million vehicles) shipped in 2021 will be connected.
General Motors, BMW, Toyota, Daimler Trucks, Mercedes-Benz, and Tesla are all leaders in this effort, and tech companies including Google, AT&T, Apple, Microsoft, and Sprint are also heavily invested.
Auto techs would be wise to note the ways the IoT is already making big changes to how drivers use cars:
People are abandoning their built-in GPS systems in favor of apps such as Google Maps.

The seemingly endless musical selections provided by streaming services such as Spotify and Pandora make the radio that came with the car seem dull in comparison.
The savvy technician will become an expert in connectivity as well as camshafts.
Autonomous Vehicles
As connected as we are to our cars, we may soon lose one big connection: driving them ourselves. The autonomous (or driverless) vehicle uses a complex web of software and sensors to move a car safely without a human driver. Radar, machine learning, ultrasonic sensors, and lidar projectors all play a role in guiding the vehicle from point A to point B.
There are five established levels of autonomous operation. Levels 1-3 are currently available in most modern cars. Levels four and five are still in development.
Level one – Simple driver functions are left to the computer (cruise control, stability control, anti-lock braking system).

Level two – The car can engage one emergency feature on its own (braking to avoid an accident).

Level three – The onboard computer performs two or more functions simultaneously, which may include adjustments in speed (cruise control) and position in the center of a lane.

Level four – The majority of the driving is done by the car, with human intervention only needed in emergencies.

Level five – The car is completely automated with no driver.
Car and tech companies alike (and even trucking companies such as Daimler) have jumped into the sector, including Mercedes-Benz, Cadillac, Uber, Tesla, Cruise, and Waymo. And the need for auto techs who can service this next generation of cars is real—so much so that schools are scrambling to train them.
The Future for Technicians Is Here
If your child is considering a career as an automotive technician, he or she has an exciting and innovative journey ahead, during which they will pair classic repair techniques with state-of-the-art technology. A vocational education provides a solid foundation for this career path. Learn more in our FutureTech Roadmap guide.