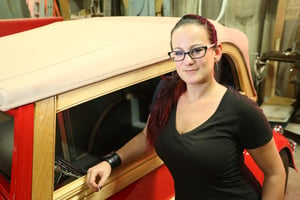 Chances are, you know Bogi Lateiner from her role as host of MotorTrend's All Girls Garage, as a successful auto tech shop owner, or through her worldwide career as a technical educator. But what you may not know is the road she took to get there.
In an industry where women make up less than a quarter of the workforce, Bogi has managed to break through stereotypes and build a high-profile career in auto tech. At the same time, she's inspiring women to thrive in an industry where they're still in a firm minority.
Wondering what drives Bogi and how she paved her path to success?
Read on. We sat down with her, discussed how she found success in her career, and asked her how other women can build their own successful lives in automotive tech.
Bogi's Journey into the Auto Tech Industry
Bogi says her decision to move into tech all started with a Volkswagen Bug. Soon after the purchase of her first Bug, she decided to join shop class to learn to fix and upkeep her new car.
Unfortunately, she says the people around her weren't exactly enthusiastic about a girl entering the auto tech world.
"I got a bunch of pushback from my guidance counselor, teachers, and friends," she recalls. "That just made me want it more."
She pushed on. However, she says she faced hefty challenges as a young girl pursuing her passions in auto tech. She felt isolated without like-minded peers with whom she could share her interest and struggles.
Additionally, she says she didn't have many resources to connect with women in auto tech during these pre-social media years.
However, she explains that those early experiences in the shop sparked a passion that helped her forge ahead, even if a direct path to an auto tech career remained murky.
"I ended up falling in love with cars and working with cars throughout the process of what ultimately became the complete restoration of my Bug," she explains. "But I still didn't see it as a career path option. It was never really presented as an option for a career path."
A Windy Road to Tech College
Despite her love for hands-on work, her route to tech college was far from a straight shot. She says after feeling pressure from parents, friends, and colleagues, she decided to study pre-law at a four year college after high school.
However, after helping friends with their cars throughout college, she eventually saw her original passion rise to the surface.
"By the end of my college degree, I was like, 'I really miss working with my hands,'" she recalls. "I realized not only did I have a love for working with cars, but I also had a love for sharing that with people."
After getting a traditional degree, she switched paths and went to technical college. From there, she would go on to perfect her auto tech skills, work as a dealer certified master tech, own her own shop, and inspire countless women to enter the auto tech world.
Advice for Women Entering the Industry
As she blazed a trail for women in auto tech, Bogi says she faced a range of challenges—including outright sexism, a shortage of mentors, and a lack of support from the people around her. Here are some tips she has for women who face similar struggles in the auto tech world:
Find Your Allies
Bogi says you'll come across good and bad colleagues in the industry. When you connect with those who support and encourage your career choice, they can give you the energy to push ahead.
Focus on the Positive
It can be easy to get discouraged, especially when there aren't many people in the field who are like you. That's why she says focusing on the positive can make a big difference.
Know Negativity Isn't About You
Bogi says she encountered plenty of people who flat-out didn't want to see her succeed as a woman in tech. But she didn't let those negative experiences consume her. If you experience sexism in your career, she says to always remember that it isn't personal and it's more about them, not you.
Know the Work Isn't Always Easy
Regardless of your gender, work in auto tech can be a challenge. She says it is important to remember everyone has to start out in tough roles and persevere.
How to Excel
So what should you do if you're a woman who wants to create a successful auto career? Bogi says these are the skills you should focus on:
Humility
"When you're humble and approach experienced techs with an eagerness to learn, they're much more likely to want to share their knowledge with you," she says.
Curiosity
"Be curious about everything, tinker with stuff in your off time, and just want to learn everything," she explains. "Stay curious. Be curious."
Perseverance
"This stuff is not easy and cars are getting more and more complex every day," she points out. "Get excited about the challenges. Get excited about when you mess up because that's an opportunity to learn."
Overall, Bogi stresses the importance of celebrating and learning from mistakes. If you want to be successful, be your own supporter. That means cutting out negative self-talk and always working to learn from every mishap along the way.
Want to learn more about life as a female auto technician? Check out the Future of Women in the Automotive Tech Field guide that includes how women have shaped the industry, female-focused scholarships and grants, and more!