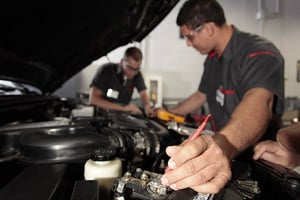 Automotive technology is woven into the fabric of our everyday lives. It gets millions of commuters to work every day and brings products from sellers to buyers across the country and around the world.
So when the next generation of students gets excited about transportation tech, it benefits us all. And when shop teachers like you step up and nurture this interest, you not only help make student dreams a reality but also help propel advances in an industry that helps make the world go around.
There are many career opportunities for high school students, whether as mechanical techs, body specialists, or sales reps on the retail side; as mechanical and electrical engineers in manufacturing; or working on the cutting edge of computerized safety features or alternative fuels on the research side.
The following are tips to encourage your students' love of cars and all things transportation.
Let Them Build Things with Their Own Two Hands
If your school has access to unwanted or donated auto parts, you could have students build an electric car from scratch, like the students of Memorial High School in West New York, New Jersey. Their work has included a retrofitted diesel 1990 Volkswagen Cabriolet that runs on vegetable oil and an electric Lotus 7, a long-term project built by students from scratch over several years.
With the Lotus project, students combined engineering, electrical and science theory with hands-on aptitude. In the end, they had a drivable electric vehicle to show for it. Specific tasks included:
Creating battery boxes and brackets
Adapting the electric motor to run with the Volkswagen's transmission and clutch
Wiring the controller and batteries
Further down the east coast, the students of Palmetto Academy for Learning Motorsports (PALM) Charter High School in Conway, South Carolina, get the chance to learn about motorsports, with classes in skills such as welding, graphics, and assembly. They repair and reconstruct go-carts and race cars, then get to drive them on the track.
Take Them to Career Fairs
Let them know that there are many other students out there who share their interests and companies that want to hire them come graduation. Career fairs are a great way to open up their minds to the wider world of opportunity waiting for them.
The New Hampshire Automobile Dealers Association (NHADA)'s annual Automotive Career Fair brings in more than 800 Granite State juniors and seniors to participate in panels, Q&As, and meet-and-greets with potential employers from the New Hampshire Motor Speedway to NASCAR.
On the opposite coast, the Washington State Auto Dealers Association (WSADA)'s Bright Future Career Fair has a prominent place at the annual Seattle International Auto Show. Three tech colleges and 10 local auto dealers are on hand to advise students interested in the field, and attendees can apply for the Bright Future Scholarship Program, which gives $2,500 scholarships towards a state auto tech program.
Balance the Auto Industry's Gender Gap
At Myers Park High in Charlotte, North Carolina, girls are encouraged to learn the ropes of a traditionally male-dominated industry. The school aims to instill confidence in young women and open them up to considering careers in cars. They perform state inspections in the school's licensed shop and at part-time jobs. The school will also pay for student certification.
And Myers Park Students get a taste of the fun side of auto shop—for example, in April 2018, they rebuilt a donated 1977 Chevy pickup engine and then entered it in the "24 Hours of Lemons" contest in Kershaw, SC. In addition to driving the clunker, students were the pit crew and cheering squad. While they may have only placed 56th out of 62 entries, they took the award for "Most Heroic Fix."
Encourage Them to Help Their Community
Students at Lincoln-Way Central High School in suburban Chicago offer free inspections to senior citizens in the Village of New Lenox to help them prepare for winter. In 2019, they inspected 21 cars over two days, providing a valuable service to local residents.
Participating students performed inspections and diagnostics; checked fluids, tires, and batteries; slid underneath to check out the chassis; and, best of all, got a crash course in familiarizing themselves with a wide variety of makes and models. The event was popular enough to generate a wait list.
Instructor Anthony Ogarek put it best: "There's nothing better than learning how to fix something and see how to make repairs ... when you become an engineer you can change the way a few things are done."
Connect Them with Resources
The transportation industry is on the hunt for the next generation of talent, and that begins in the high school classroom. This list is only the tip of the iceberg of the many resources available to instructors who want to encourage transportation techs of the future.
TechForce Foundation's educator resources are a great place to get your shop course started or take an established program to the next level, access them here.