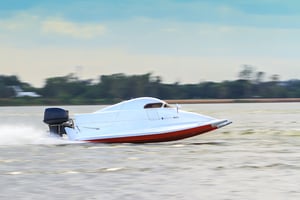 Are you captivated by the idea of working near water or helping others conquer the high seas? Fascinated by motors and the inner workings of engines? Becoming a marine technician might be your dream career.
As a marine mechanic, you'll learn to work on aquatic vehicles of all shapes and sizes—everything from yachts and cruise ships to fishing vessels and smaller personal boats and watercrafts. It's a hands-on career in which you spend your day diagnosing and repairing mechanical, hydraulic and electrical issues with water vehicles, and working on a variety of inboard and outboard motors. Wondering what this career is all about? Here's a deep dive into the job.
What Does a Marine Mechanic Do?
Simply put, these mechanics are experts in water vehicles. In most cases, that means the job requires troubleshooting, repairing, and upgrading water-bound equipment. Here are some typical duties that come with the job:
Motor work: This can include such things as installation, repairs, and upgrades on inboard and outboard motors.
Onboard equipment fixes: Mechanics often spend time troubleshooting and repairing electrical equipment on boat engines. Their duties might also include fixing electrical or steering systems.
Propeller repair and maintenance: Water voyagers rely on marine mechanics to keep propellers, drive units, water-jet drives and other propulsion system components in top working order. That means a marine mechanic's day could include inspecting, fixing, or installing these all-important parts.
In addition to these common general duties, it's also possible to specialize in specific disciplines within the field. Some people decide to focus on in-depth areas such as engine rebuilds, field service, or aftermarket parts sales, service, and development.
Career Qualifications
Marine mechanics are aquatic technicians who need to have the technical know-how and critical thinking skills to diagnose and repair complex aquatic machines. That means popular routes to this career include enrollment in a postsecondary vocational school program, or taking individual technical courses in areas such as motorboat repair.
In addition to giving you the skills to take on jobs with confidence, these courses help you gain the certification requirements to perform maintenance and repairs on products that are covered by manufacturers' warranties.
Still, it's good to remember that this career is rooted in action and working with your hands. That means many employers ask for 1-2 years of experience before you jump into a full-time career. In order to gain experience, it's worth seriously considering certification courses, apprenticeships, mentorships, or positions that give you on-the-job training to start out.
Skills You'll Need
Marine mechanics must have excellent critical-thinking, mechanical, and troubleshooting skills. They should also have good hand-eye coordination and dexterity in order to remove, assemble, and install parts.
Additionally, communication skills are a must. Marine mechanics often interact with customers as well as service department personnel. Much of the time, they have to explain highly technical information. That means it's important for them to have the communication skills to break down complex information and generate positive customer interactions at the same time.
What Does the Work Environment Look Like?
As a marine mechanic, there's a good chance your "office" won't be all cubicles and staplers. Your workspace might be anywhere from commercial fishing boats, yachts, and smaller watercrafts to marinas, dry docks, or dockside offices.
Regardless of the exact office specs, there's a good chance you'll be located near a large port or a commercially active body of water.
Examples of Marine Mechanic Careers
Marine mechanics work in all kinds of industries throughout the public, private, and government sectors. That includes work with cruise lines, outdoor department stores, boat dealerships, watercraft manufacturers, marinas, and branches of the military including the Marine Corps and the Navy.
Here are some popular positions for marine mechanics:
Boat rigger: Riggers outfit boats with the vital systems that maintain operations, safety, and comfort. A day's work may include installation of propulsion systems, winches, throttle and steering controls, standard rigging, anchors, lifeboats, bunks, and other furniture.
Rig shop manager: This management role typically requires several years of experience, and it puts leadership skills into action. Rig shop managers create and schedule work orders, supervise rigging sales, maintain high standards of customer service, and oversee staff training and scheduling.
Dealership technician: These technicians are specialists. They focus on one boat manufacturer or a conglomerate of manufacturers.
Gelcoat and fiberglass technician: As an alternative to the mechanical, internal side of the business, these techs identify and repair damage to a boat's gelcoat and fiberglass. These technicians work on a variety of boats with exterior damage, such as dents, cracks, scratches, gouges, or other structural and cosmetic issues.
Marine refrigeration and air conditioning technician: Also known as mechanical systems technicians or marine HVAC service technicians, these experts repair and rebuild commercial and domestic air conditioning and refrigeration equipment. They also work with ventilation and hood systems. Other key responsibilities include maintaining cycling, bearings, and oil levels.
What Training Can You Expect?
Training and certifications usually focus on the ins and outs of those technical systems that you'll run into on the job. Wondering what to expect? Here are some common areas tech school courses may cover:
Fuel and engine systems
Electrical and auxiliary systems
Transmission repair
Steering mechanics
Hydraulic systems and related parts
Welding
In addition to coursework, many vocational programs provide training on specific manufacturer products as a first step toward industry certifications. These certifications are a common requirement when you're working with well-known companies, such as Honda, Mercury Marine, or Yamaha Outboard.
Typical Salary
Location and cost of living can affect a salary. For example, a marine mechanic with three years of experience in New Orleans makes between $38,149-$56,528. The same mechanic would make between $40,503-$60,016 in Fall River, Massachusetts, and between $43,258-$64,099 in Los Angeles. As with any entry-level job, starting pay may be modest. But broaden your skill set, get some experience under your belt, and add a few advanced certifications, and that number might quickly climb up into six figures.
How to Start Your Journey
If the life of a marine mechanic sounds like a good start to your career, then a vocational or trade school may be a good fit. Not sure where to start? Check out our FutureTech Roadmap guide. It can help you find your way to a successful path in the industry.