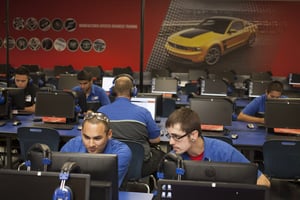 You've thought long and hard and decided that a transportation tech career is the right path for you. You're committed to pursuing it, but you want to make sure that the money you're about to spend will be a good investment in your education.
But how do you know which to choose? This article will guide you through the qualities of a top-notch trade school.
The School Is Accredited
Accreditation by the ASE Education Foundation is a must-have for your transportation trade school, if you plan to work in the automotive or diesel field. If you intend to go into collision repair, then choose a program that is accredited by the ASE Education Foundation, or one that teaches I-CAR Curriculum. With ASE accreditation, this means that the school's instructors and coursework meet the ASE's five-step accreditation process that evaluates many aspects of a school, including its structure and mission. Many shops prefer students who have graduated from an accredited program because they know it is aligned with industry standards, and it also makes it easier to qualify for individual certifications.
Certified tech schools have demonstrated that they can provide comprehensive training in mechanical, electric, and electronic components, as well as systems theory and operation––just make sure their accreditations are up to date.
The School Has Low Admission and High Graduation Rates
Accreditation is a good start, but it is also important to look into the school's rates of admission and completion. The lower the admission rate, the more selective the school (they take only the best candidates). The higher the completion rate, the more the students are engaged in the program and will see it through to the end.
The School Has a Great Classroom Experience
Sit in on a class to see if the instructors are engaging and the students are excited by the material. Also, ask about class size and instructor certifications. Large lecture halls may work for some students, but if that's not you, find out if there are other ways you can learn, such as smaller study groups or ask for tutoring help.
The best way to take the temperature of a program is to ask recent graduates about their experiences. The school should provide a list of folks who would be happy to talk with you.
The School Provides Real-World Training
There's only so much a textbook can teach you about how to fix a car, truck, or motorcycle. Understanding the theory is critical, but at some point, you need to roll up your sleeves and get your hands dirty. A good tech school gives you plenty of workshop time with hands-on access to these vehicles so you can learn different repair techniques, go over diagnostic procedures, and, most importantly, make some mistakes in a safe environment.
The School Offers Bumper-to-Bumper Training
Most auto repair businesses perform maintenance and repairs on the entire vehicle, bumper-to-bumper. So make sure that you are going to graduate from a program that teaches you theory and operation of the entire vehicle. The broader your knowledge and skillset, the more valuable you will be to an employer. You should graduate with the skills to diagnose and repair any problem that comes your way, from suspensions and tires all the way to the latest computers and on-board tech.
Your ideal tech school gives you a solid foundation in the fundamentals and then turns you loose to explore every system of the vehicle with your own two hands. If you can swing it, visit the campus yourself and ask lots of questions about where you'll be working. Talk to current students at the campus and ask them about the program, and what they like and dislike. You should also compare their equipment with what auto manufacturers are recommending in their approved equipment programs. It should match or be an acceptable equivalent.
The School Is Clear About Costs
All of the above factors are important, but in the end, your choice of a tech school may come down to cost. Here are some questions to ask:
What tools and supplies does the school supply and what do you need to buy?
What kind of financial aid does the school provide? How about assistance for students who have language barriers or learning disabilities?
Does the school offer scholarships that you can apply for?
Do you pay by program, semester, or course? What can you expect to pay for essentials such as books, uniforms, or equipment? Are there lab fees or graduation fees? Is there a fee if you drop or add a class?
What percentage of recent graduates are delinquent in paying back their student loans?
The School Has a Strong Job Placement Success Rate
Once you've completed auto tech school, the next step is finding a job in industry. Look for a school that actively assists you with job placement. Some schools have a robust placement process in place, while others offer no assistance. Also, your choice of school should be at least partly informed by its alumni. Are they currently working in the field? Will the school provide a list of willing graduates who can talk to you about their work and potentially even provide leads for employment?
The job outlook for transportation techs is solid, but you'll still need to do the work to find a position that's right for you. A worthy school can demonstrate its successful placement of alumni and has a database of employers at the ready.
Start Looking Today
From accreditation to cost to job placement, there are many factors that set the top tech schools apart. Do your research now, and you will be rewarded with a great educational experience and a rewarding career.